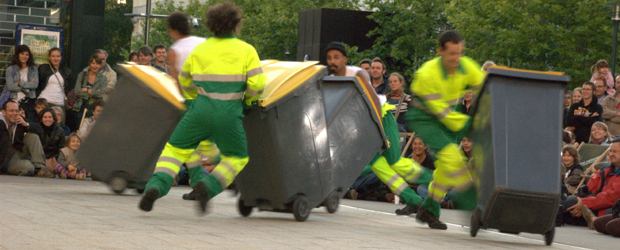 Hop! Un spectacle de rue burlesque, chorégraphié, rythmé et chanté.
Voici un chef rigoureux qui tente de mener son équipe vers la perfection professionnelle, mais les trois employés municipaux sous ses ordres s'avèrent être tous plus dissipés, délirants et flâneurs les uns que les autres.
Le quotidien de ce quatuor n'a de cesse de balayer les idées reçues sur leur profession.
Les poubelles et les balais prennent vie, les chants exutoires bravent le taylorisme et la main d'œuvre urbaine se laisse emporter par sa douce folie poétique.
Quand les instruments de travail se transforment en instruments de musique, que les mouvements protocolaires alimentent des rythmes décapants et des chorégraphies dépoussiérantes, la morosité n'a qu'à bien se tenir!
En compagnie de ces étonnants balayeurs, le public n'aura pas à s'adonner au tri sélectif…
le rêve et le rire se retrouveront dans le même sac !
Hop's four road sweepers are simply streets ahead, brushing away the ennui of the daily routine in a magical mêlée of broomsticks wielded against a pulsating background of clacking bin-lids, street-funk rhythm, choreographed gymnastics and high-quality recycled vox humana scrap.
Couched in the international language of dance, music, pantomime, clownery and poetry, here's a presentation to delight young and old alike, soliciting sidewalk smiles and teasing out every passer's-by hidden desire to laugh, dream and (why not) hip Hop!
Durée : 45 minutes
Distribution : Karl-édouard BENTHO, Pierre GUEHENEUC, Pierre BONNAUD, Laurent QUERE.
Mise en scène : Maud JEGARD
Spéciale dédicace à Grégory HILAIRE qui a partagé avec nous les 6 premières années de tournée du spectacle.
Hop! le teaser de 2012


Durée : 45 min / 4 comédiens / autonome.
Spectacle de rue, mais se joue également en salle.